Start Video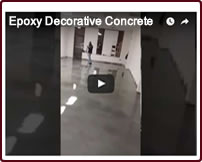 WELCOME TO OUR WEBSITE!
Terrazzo, from the Italian word for terraces, was created several hundred years ago in Europe when Venetian workers discovered a new use for discarded remnants of marble. Since that time it has become a fantastic, even a practical solution for contemporary design and construction. The beauty and versatility of terrazzo offers today's architects/designers a contemporary flooring and wall material for interior and exterior design use.
Latest Projects


---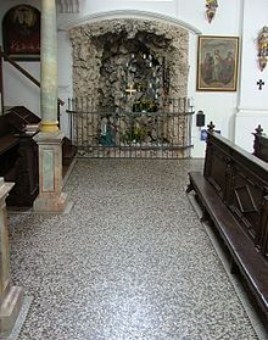 Plain terazzo floor in a German church
Terrazzo is a composite material, poured in place or precast, which is used for floor and wall treatments. It consists of marble, quartz, granite, glass or other suitable chips, sprinkled or unsprinkled, and poured with a binder that is cementitious, chemical, or a combination of both. Terrazzo is cured and then ground and polished to a smooth surface or otherwise finished to produce a uniformly textured surface.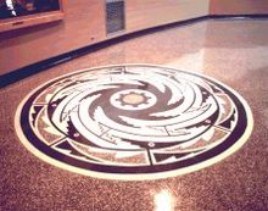 Terrazzo with adapted Native-American
Terrazzo artisans create walkways, floors, patios, and panels by exposing marble chips and other fine aggregates on the surface of finished concrete or epoxy-resin. Much of the preliminary work of terrazzo workers is similar to that of cement masons. Marble-chip, cementitious terrazzo requires three layers of materials. First, cement masons or terrazzo workers build a solid, level concrete foundation that is 3 to 4 inches deep. After the forms are removed from the foundation, workers add a 1-inch layer of sandy concrete. Before this layer sets, terrazzo workers partially embed metal divider strips in the concrete wherever there is to be a joint or change of color in the terrazzo.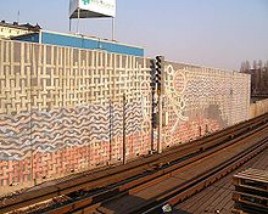 Archaeological
Archaeologists use the word terrazzo to describe the floors of early neolithic buildings (PPN A and B, ca. 9,000–8,000 BC) in Western Asia, that are constructed of burnt lime and clay, colored red with ochre and polished. The embedded crushed limestone gives it a slightly mottled appearance. The use of fire to produce burnt lime, which was also used for the hafting of implements, predates the use of pottery by almost a thousand years. In the early Neolithic settlement of Cayönü in eastern Turkey ca. 90 m² of terrazzo floors have been uncovered. The floors of the PPN B settlement of Nevali Cori measure about 80 m². They are 15 cm thick, and contain about 10-15% lime.
---